Chattanooga is a beautiful city that has implemented numerous amazing programs for its residents and visitors. Everything from the stunning riverwalk, the greenway, award winning affordable housing programs, emission free public transportation, an array of festivals, and educational attractions make Chattanooga stand out as a beloved city. The population of Chattanooga is 179,690 with a median household income of $45,527. If Chattanooga sounds like your next home, you'll need to know about the safety of the city to help with your decision.
Is Chattanooga a safe city? Chattanooga has seen a 2 percent overall decrease in crime in the last year. However, crime information is something that should be looked at in detail when considering your next home. This guide will give you an in-depth look at the city as well as areas of the city known to be more and less safe than average for the area, and much more.
Understanding the Crime Rate in Chattanooga
So how can crime rates be interpreted? When cities, law enforcement, and researchers evaluate crime rates, the number of crimes reported in the city are divided by the city's population, then that figure is multiplied by 100,000. Crime is separated in the categories of violent crimes and property crimes, as well as total crime rate. Violent crimes include offenses such as murder, abduction, and assault. Property crimes include incidents such as burglary and theft. The data presented is from FBI Uniform Crime Statistics – 2019. 
Here's a brief summary of overall crime rates in Chattanooga:
Chattanooga total crimes: 12,821
Chattanooga total crime rate: 7,101 per 100,000 people
Chance of being a victim of a crime in Chattanooga: 1 in 14
Every city's law enforcement department and/or city website releases vital crime data on a regular basis. This is a great way to stay up to date and also get a detailed look at crime trends in Chattanooga. The City of Chattanooga provides information on all police case and arrest logs, which is updated daily and may be found here. They also release a crime map. Click here to review a Chattanooga, TN crime map.
Violent Crime in Chattanooga
Violent crime in Chattanooga didn't rise or fall remarkably between 2013 and 2019. It has stayed above the national average while the national average has decreased. However, violent crime rates in Chattanooga are lower than one of the closest major cities in Tennessee, Nashville. Daily violent crime rates in Chattanooga are 1.8 times the average for all of Tennessee. 
Chattanooga's violent crime rate is 1,048 per 100,000 people. The violent crime rate in Chattanooga is higher than the national average of 337 per 100,000 people. Violent crime in Chattanooga is on a slight decline of 1.64%.
Chattanooga Murder Rate: 10.5 per 100,000 people
Chattanooga Total Violent Crimes: 1,891
1 in 95 chance of being the victim of a violent crime in Chattanooga
Property Crime in Chattanooga
In Chattanooga, consistent with the rest of the United States, the property crime rate is higher than violent crime. However, while violent crime in Chattanooga hasn't changed dramatically over the last 5 years, property crime rates have been declining steadily, causing the overall crime rate to also decrease. 
The property crime rate in Chattanooga is about 55% more than the National average but is falling at a faster rate. From 2018 and 2019, property crime in Chattanooga decreased by over 8%, compared to only 4.5% nationally. The most common property crime in Chattanooga is theft.
Chattanooga total property crimes: 10,930
Property crime rate of 6,059 per 100,000 people
1 in 16.5 chance of being the victim of a property crime in Chattanooga
Dangerous Areas of Chattanooga
All metropolitan cities are divided into neighborhoods. Just as neighborhoods can differ greatly, crime rates between neighborhoods in the same city can as well. In Chattanooga, the least safe neighborhoods all have similar crime rates to Chattanooga as a whole. Crime rates in the Chattanooga area don't really begin to differ until one looks outside the heart of the city. Some of the most dangerous areas of Chattanooga are:
Alton Park
Population: 7,287
Crime rate: Over 200% higher than the national average
Alton park is situated south of Interstate 24. Median household income is $37,789. In Alton Park, 38.4% of residents live below the poverty level, compared to 16.7% for the whole of Chattanooga.
Highland Park
Population: 3,424
Crime rate: Over 200% higher than the national average
Highland Park neighborhood population density is 4.9 times higher than that of the city of Chattanooga. Median household income is $36,486. Highland Park was one of Chattanooga's first suburbs.
Glenwood
Population: 1,410
Crime rate: Over 200% above the national average
Glenwood neighborhood sits between Northcrest Road, Dodson Avenue, Wilson Street, and McCallie Avenue. The area contains many of Chattanooga's vital businesses and services such as a hospital, schools, restaurants, and churches. The population density of the Glenwood neighborhood is almost twice that of Chattanooga as a whole. The median household income is $26,535. 
Safest Neighborhoods in Chattanooga
Chattanooga is divided into 49 neighborhoods, and many of them are extremely safe! Here is a look at some of the safest neighborhoods in Chattanooga:
Lookout Mountain
Population: 8,539
Crime rate: 57% lower than national average
Lookout Mountain sits in far southwest Chattanooga, only 6 miles from downtown. The crime rate in Lookout Mountain is 57% lower than the national average, violent crime is 100% lower, and property crime is 49% lower. The area is considered rural and affluent, with a median household income of $130,446 and an average sale price for homes of $487,000.
 Signal Mountain
Population: 8,500
Crime rate: 85% lower than the Tennessee average
Signal Mountain is a small town with a spread out, suburban feel. It is a mere 15 commute to downtown Chattanooga heading southeast. It is a quiet town, perfect for families and retirees. The area has rich history and is named for Signal Point, which was used during war as a place to send and receive signals by both the military and Native Americans. Median household income is 109,926 with an average sale price for homes at $415,000. 
Collegedale
Population: 11,300
Crime rate: 22% lower than the national average
Collegedale is a suburb of Chattanooga and sits in southeast Hamilton County. The violent crime rate is four times less than the national average. This makes it one of the safest areas not only around Chattanooga but also in the state of Tennessee. Both property and violent crime have decreased over the last 5 years. Median home sale price is $300,000 with a wide range of home styles and ages. Median household income sits at $59,015.
Chattanooga Safety Tips – How to Avoid Crime in Chattanooga
Avoid walking around alone in Chattanooga any time of the day, but especially after dark. Traveling in numbers is much safer.
Get to know your neighbors, create neighborhood watch groups and/or associations
Uber or Lyft are generally safer than a taxi cab
Utilize the City of Chattanooga online travel guide to plan your trip and avoid being lost. Share your travel plans or itinerary.
Chattanooga Police Department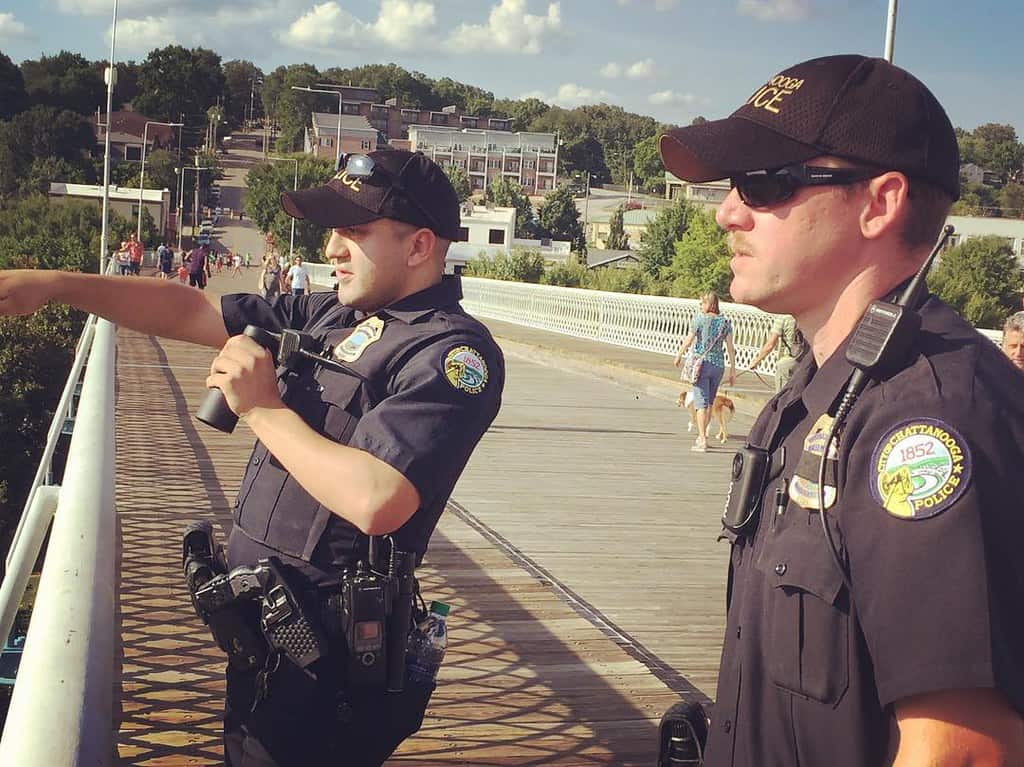 The Chattanooga Police Department was formed in 1852 with its first city marshal and force of policemen. They were paid $15 a month, and an extra dollar for every arrest and conviction. The city lockup was finished in 1854 and cost less than $200.
Nowadays, the Chattanooga Police Department has grown to a thriving unit. The department currently has 500 sworn officers, with 305 of them working in neighborhood patrol. There are 2.58 law enforcement officers per 1,000 residents in Chattanooga, which is congruent with the average for the state of Tennessee. The current Chattanooga Chief of Police is David Roddy. He has served the department for 25 years.
Chattanooga Police Headquarters
3410 Amnicola Hwy. Chattanooga, TN 37406 (423) 643-5000
Chattanooga Crime Rates FAQ
What is the crime rate in Chattanooga, Tennessee?
Chattanooga's total crime rate is 7,101 per 100,000 people. There is a 1 in 14 chance of being a victim of a crime in Chattanooga.
What are some of the worst areas of Chattanooga?
Some of the most dangerous areas in Chattanooga include Glenwood, Highland Park, and Alton Park.
Is Chattanooga safer than Chicago?
Total crime rates in Chattanooga are lower than Chicago.
Considering a move to Chattanooga? Make sure you're working with highly trained and professional Chattanooga movers for your relocation. Also check out Chattanooga moving costs estimates before you plan your move. Call us now for your free quote!