Nestled in the heart of the city — steps from the Tennessee River — Downtown Chattanooga is a vibrant and exciting place to call home. Known for its eclectic vibe, the Tennessee Aquarium, the Bluff View Arts District, and the picturesque Walnut Street Bridge, there's plenty for visitors and residents to explore on any given day. Because of all of these characteristics and more, Downtown Chattanooga is a great place to live.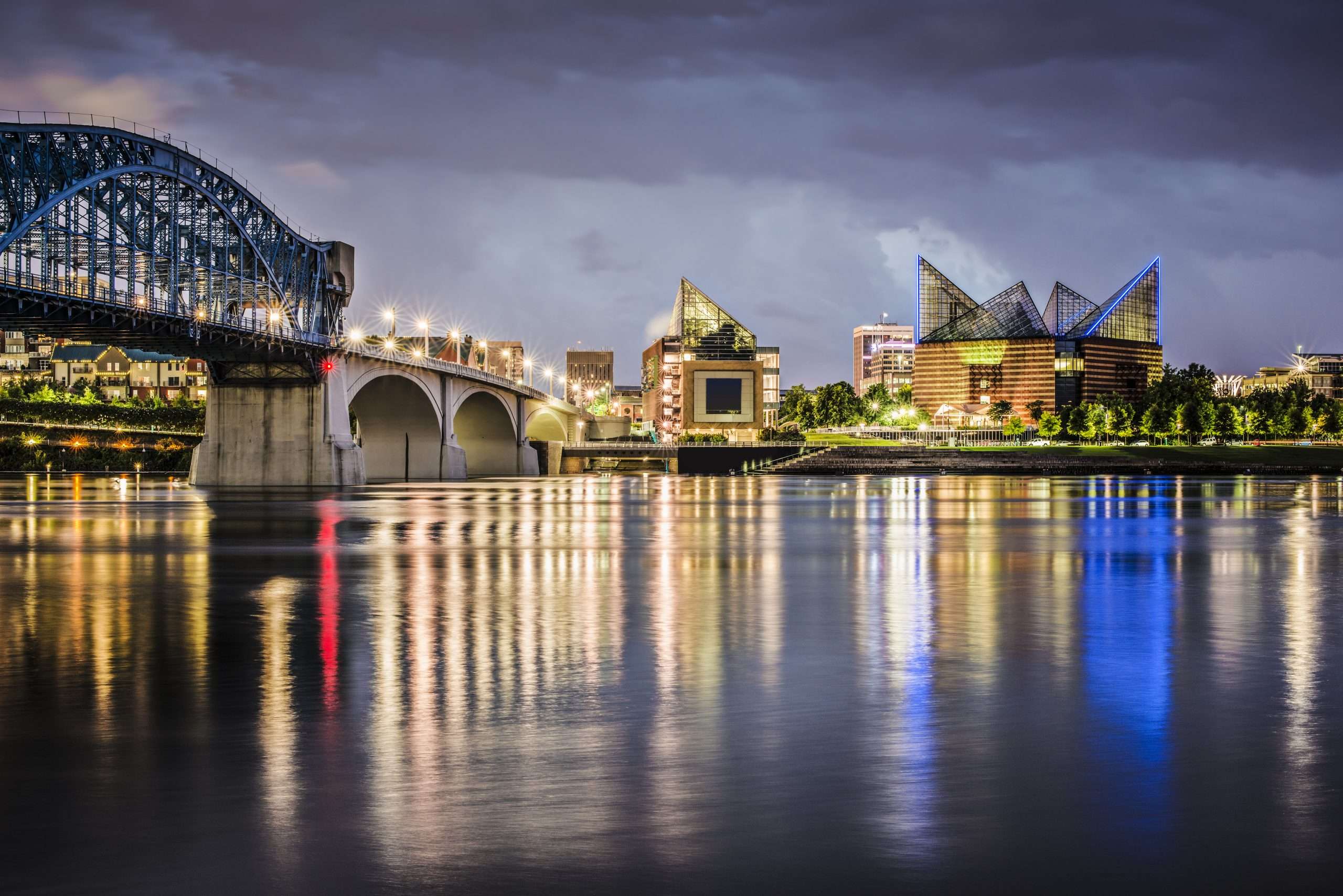 Where is Downtown Chattanooga?
Downtown Chattanooga is located in the center of the city. It includes multiple zip codes — including 37402, 37404, and 37408. Downtown Chattanooga comprises multiple sub-neighborhoods, including the Bluff View Arts District, West Village, City Center, and MLK/UTC. The area borders nearby neighborhoods such as Ridgeside and Red Bank.
Locals love that this part of the city features a beautiful skyline, the historic Walnut Street Bridge, views of the Tennessee River, and quick access to many of the city's top interstates and highways (including Interstate 24 and Interstate 75). Downtown Chattanooga also has a 13-mile riverwalk, known as the Tennessee Riverwalk.
Downtown Chattanooga has excellent public transportation. The Chattanooga Area Regional Transportation Authority (CARTA) offers electric bus shuttle services. Driving to and from the Tennessee Aquarium and Chattanooga Choo Choo, the Downtown Electric Shuttle is free to all riders. Outside of this popular downtown route, fares are affordable ($1.50 per adult, with discounted $0.75 fares for qualifying riders). Kids five years and under always ride free.
Map of Downtown Chattanooga
Downtown Chattanooga History & Overview
Since the early 21st century, significant effort has been placed into building Downtown Chattanooga into what it is today. Around the early 1900s, the local government and private investors spent millions of dollars to revitalize what had once been an undesirable place to live.
The early 1990s marked a period of major growth and improvement in Downtown Chattanooga. In 1992, the Tennessee Aquarium officially opened its doors. One year later, the historic Walnut Street Bridge reopened to traffic. Then in 1995, the Creative Discovery Museum opened to tourists and locals alike.
Now, Downtown Chattanooga is a thriving hub of arts, culture, and attractions. People from around the nation specifically plan visits to this iconic neighborhood.
Neighborhood population: 181,099
Household income: $55,065
Educational attainment: 90.1 percent high school diploma (or higher), 34.3 percent bachelor's degree (or higher)
Median age: 37
Foreign-born population: 7.1 percent
Racial & ethnic composition: 55 percent White, 32 percent Black, eight percent Hispanic, three percent two or more races, two percent Asian
What's it Like Living in Downtown Chattanooga?
Thanks to its outstanding quality of life, Downtown Chattanooga has won three national livability awards in recent years. Back in 2009, Forbes named Downtown Chattanooga as the 8th best "Bang for Your Buck" among 100 of America's largest metro areas.
Walkable, trendy, affordable and cultured, Downtown Chattanooga is a hidden gem in the southern U.S. This part of the city is always alive with events, activities, and attractions. New and established residents never have trouble finding fun places to explore in their leisure time. The area is also prized by individuals who enjoy seeing interesting architecture, as this city is filled with both modern and historic structures. Living in Downtown Chattanooga is a wonderful experience for young professionals, couples, and families who enjoy getting out and exploring their town.
View this post on Instagram
Things to Do in Downtown Chattanooga — Best Restaurants, Attractions & Shopping
One of the main benefits of moving to Downtown Chattanooga is being able to reside near a myriad of restaurants, attractions, shops, and entertainment venues. Within walking distance, locals can quickly reach some of the city's top Downtown Chattanooga destinations.
View this post on Instagram
Restaurants
No matter the type of food you are craving, you are certain to find a restaurant that dazzles your palate in this neighborhood. Living in Downtown Chattanooga means that you are always close to popular eateries that have become neighborhood institutions.
With several locations across the South, Tupelo Honey Southern Kitchen & Bar specializes in serving some of the best Southern comfort food that you'll find anywhere. Located in the heart of the neighborhood, this family-friendly establishment serves up made-from-scratch dishes with the freshest ingredients.
Searching for a restaurant for date night or an elevated happy hour? Highly-rated and trendy, STIR is located in a renovated industrial building. Sophisticated and upscale, guests of this restaurant can enjoy a delicious oyster bar, craft cocktails (served with artisanal ice), and entrees with ultra fresh ingredients.
View this post on Instagram
Shopping
Located in one of Downtown Chattanooga's most historic locales, Warehouse Row delivers the ultimate high-end shopping experience. Home to stores such as Hemline, J. Crew, Anthropologie, lululemon, and Onward Reserve, this mall is easily one of Downtown Chattanooga's most luxurious shopping destinations.
Another great place to go shopping in Downtown Chattanooga is 2 North Shore. As the ultimate upscale shopping complex for your everyday needs, peruse the selection at retailers such as Whole Foods Market, Nooga Paws, Fleet Feet Sports, and Learning Express Toys.
Things to do & attractions
Upon moving to Downtown Chattanooga, new residents will find that there is always something to do and see around town.
One of the best free things to do in Downtown Chattanooga is spending the day at Coolidge Park. Family-friendly and dog-friendly, this park features a restored carousel, views of the Tennessee River, and a play fountain for children.
For all ages, Downtown Chattanooga's must-see attraction is the Tennessee Aquarium. Individuals, couples, and families can easily spend an entire day at this exciting attraction. It boasts an IMAX theater, numerous exhibits with dozens of types of wildlife, and special programs for kids of all ages.
Schools in Downtown Chattanooga
Downtown Chattanooga is part of the Hamilton County School District. In the neighborhood, there are several quality public schools across all grade levels. Top Downtown Chattanooga schools include Chattanooga Preparatory School, Chattanooga Girls Leadership Academy, and Chattanooga School For The Arts And Sciences. There are also several private schools in Downtown Chattanooga, including Chattanooga Christian School, The Montessori School, and McCallie School.
Searching for a nearby higher education program? Founded in 1886, The University of Tennessee at Chattanooga is a public four-year institution with numerous undergraduate programs. The university is located along McCallie Avenue in the MLK neighborhood.
Is Downtown Chattanooga Safe?
Although the crime rate in Chattanooga is significantly higher than state and national averages, there are plenty of safe neighborhoods in and around Downtown Chattanooga.
What are some of the safest neighborhoods in Downtown Chattanooga? Communities with the lowest crime rates include the Martin Luther King neighborhood, Lower North Shore, and Belvoir.
Downtown Chattanooga Real Estate
Thinking about buying a home or condo before moving to Downtown Chattanooga? There are plenty of options across all of the communities that comprise this lovely part of the city. The Downtown Chattanooga median home price is $650,000. This figure includes all types of dwellings — including condos and single-family properties. In Downtown Chattanooga, you'll find a wide array of home styles, including modern condos, Victorian homes, and Craftsman-style properties. Before arriving in town, browse current Downtown Chattanooga homes for sale.
View this post on Instagram
Want to rent instead? The average Downtown Chattanooga rent is $1,328 per month for a 942 square foot apartment. This is lower than the national average by several hundred dollars per month, making Downtown Chattanooga an affordable place to live.
Overall, living in Downtown Chattanooga is a marvelous choice for people of all ages. Between its top-tier restaurants, family-friendly attractions, and affordability, the neighborhood offers an endless list of amenities and conveniences. Moving to Downtown Chattanooga in the coming months? Reach out to our five-star All Out Moving & Storage movers. From start to finish, we can provide an unparalleled relocation experience. Call us now for more information on our residential moving services.